READ THE REVIEWS
Variety: "A thrilling accomplishment… An antiwar literary classic reaches the big screen again via stage translation Dalton Trumbo's Johnny Got His Gun. Ably filmed by veteran stage producer-director Rowan Joseph, Bradley Rand Smith's theatrical script provides a bravura thespian workout for Ben McKenzie. Though billed as 'live onstage, on film', pic was staged for the camera rather than for a live audience. It's never static……" [more]
The Hollywood Reporter: "Ben McKenzie gives a tour-de-force performance in this one-man show, a challenging adaptation of an anti-war classic…[Director Rowan] Joseph has cast it perfectly…McKenzie has the perfect boy-next-door looks as well as the physical intensity and ardent naturalism to hold your interest…Joseph's camerawork is fluid and sensitive, commendably staying well out of the way of his actor…" [more]
Marshall Fine, Chairman of the New York Film Critics Circle: "The timing seems perfect for Rowan Joseph's unique and powerful new version of Dalton Trumbo's 'Johnny Got His Gun.' Trumbo himself directed a film version in 1971 that was much more literal and viscerally horrifying; Joseph's version, while packing the same emotional power, is a more poetic, more imaginative version. Using only lighting, camera angles and Ben McKenzie's full-bodied performance, Joseph blends horror and hopefulness and a muscular anti-war message.…" [more]
Austin American-Statesman: "Theatrical 'Gun,' with a cast of only one, unfolds on screen as a film of high caliber… More of the horror of the soldier's situation is interspersed with flashbacks: memories of a mother in the kitchen, of a girlfriend left behind, of father-son fishing trips. Though these moments bring much-needed dramatic relief, there's no mistaking that Johnny Got his Gun has a virulent message of pacifism couched in the grim realities of war's grotesqueries…" [more]
COMMON SENSE 2: "Ben McKenzie serves up an Oscar worthy performance as World War I solider Joe Bonham. This is a one man tour-de-force that you won't soon forget. What makes it so extraordinary, besides the fact that he is the only actor in the entire movie, is that Ben is not content to entertain you and let you come to your own conclusions. Oh no! He wants to control you. This is a magnificent performance. Johnny Got His Gun is not a movie. It's an experience." [more]
The Daily Texan: "BEN MCKENZIE STARS IN POWERFUL DRAMA - Ben McKenzie should no longer be remembered as 'that cute blonde guy from THE OC.' Instead, people should think of him as the actor who gives a stunning performance as a disabled war veteran in JOHNNY GOT HIS GUN…" [more]
HollywoodJesus.com: "Johnny Got His Gun continues to speak to me after all these years. As a young man the book helped form my understanding of the evil of war. Now that I am older, this film version reminds me of my role in the collective responsibility that sends the Joes of this world out…" [more]
The Rag Blog: "See this movie. See it because Ben McKenzie is a fine actor. See it because Dalton Trumbo, one of the blacklisted Hollywood 10, writes a compelling story. Let it stir memories of what a simply staged production can evoke. Buy a ticket because a portion of the ticket price supports the Fallen Patriot Fund for injured soldiers returning from Iraq and Afghanistan.…" [more]
---
QUOTES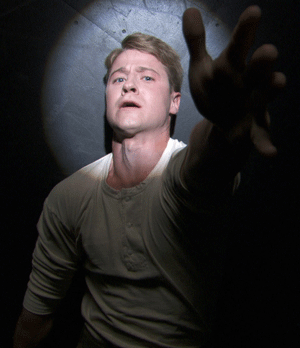 The New York Times: "Under the capable direction of Rowan Joseph… McKenzie enthusiastically delivers Joe's extended monologue, gliding between his reflections on memories of his family and girlfriend and his present realization that he has become reduced to a freak-show remnant of the horrors of war."
The Oakland Tribune: "Achingly powerful…the novel remains timely after 70 years"
San Francisco Chronicle: "Quite touching"
East Bay Express: "Powerful, no-frills stage adaptation of Dalton Trumbo's classic anti-war novel."
BlackBook Magazine: "…a heady mix of Samuel Beckett's Happy Days, Lars Von Trier's Dogville, and Pat Barker's Regeneration."
Austin Chronicle: "As long as humankind continues to wage war, it's safe to say that Dalton Trumbo's searing anti-war novel Johnny Got His Gun will never go out of circulation.McKenzie performs movingly."
Boxoffice Magazine: "Impressive and deliberate performance.the nuances [McKenzie] brings to Joe Bonham on stage make for a quick 77-minute running time"
Staten Island Advance: "Johnny Got His Gun should be required viewing (or reading) by anyone with the power to send soldiers into harm's way."
WSN: "It is amazing what a filmmaker can do with just a chair, a bench and a single actor. Outside of television, McKenzie proved that he was a formidable actor in another pint-sized indie, 2005's 'Junebug.' His performance here is equally praiseworthy — much more so, actually, because it is essentially the entire movie. The lack of scenery and any substantial visual components gives us ample time to notice the subtle nuances of his performance: the slight shifts in tone, the gradually tweaked facial expressions. It is a real accomplishment that he manages to hold things together so tightly and keep our attention. He seamlessly carries this movie along all by himself."

---
AUDIENCE COMMENTS
"As a veteran and a peace activist I'm committed to making the public aware of the human costs of war and the class issues involved. This movie is a powerful statement about those costs and issues."
-Eric Swanson, Peace Action
"A very powerful film that everyone should see - Provokes thoughtful discussion (unusual for films today!)"
-Judy Kopff, DC Film Society
"An exceptional emotional film that is a powerful testament to what we're going through now."
-Tim Ryan, Solidarity Center
"Powerful, thought-provoking & brilliantly acted."
-Wendy Donigian
"A tour de force of acting and emotion, speaking to yesterday and today's conflict of war."
-Carl Randolph, Co-Chair AEA Liaison of Balto/Washington
"The film is one of the firmest anti-war arguments presented through film, because it explores the real sides of the philosophical arguments. It pinpoints issues of the Iraq war without pointing fingers."
-Abigail Stopper
"A timeless film that should be viewed by anyone in government with the power to send young people into war."
-Vicki Richardson, DC Film Society
"As he showed in Junebug, Benjamin McKenzie talent far surpasses his O.C. roots. Phenomenal performance."
-Anonymous
"Absolutely riveting. Everyone must see this...especially politicians."
-Andrew Lare
"Ben McKenzie's performance entraps the audience within their minds, confronting them with questions that desperately need to be asked."
-Patrick Ryan, Fourteen10.blogspot.com
"A tremendous exploration of the inner-mind."
-Anonymous
"A profound & sympathetic journey into the nightmare of those who sacrifice their lives in war without the relief of death."
-Charlie Cray, Halliburton Watch
"The gravity of war & humanity...the spirit required to survive them both."
-Loren M. Cooley, DC Film Society
"The more time passes...the more important this film is becoming to me."
-Virginia Simmons
"I love this movie."
-Gail Lelyveld
"It hits the mind and heart the way blood and bombs hit the senses."
-Yvonne Erickson, AEA, DC/Baltimore, Liaison Committee
"Powerful"
-Anonymous
"Stark sober presentation of the universal plight of the young soldier."
-Anonymous
"Poignant. Truthful. Necessary."
-Anonymous
"Terrifying how true it can be."
-Anonymous