REQUEST A FREE DVD FOR YOUR SCHOOL!
Dalton Trumbo's Johnny Got His Gun is now available on a special Educational Edition DVD!
In addition to the included educational/group public performance rights license, the Educational Edition DVD has video pre-screening and post-screening discussion guides to help your class or group further explore the story's themes and the film's unique take on Trumbo's classic work.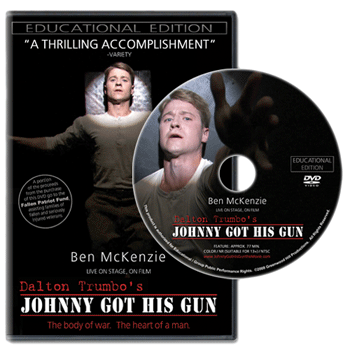 Learn more about the novel's history, adaptations, and influence with the informative Johnny Got His Gun: On and Off the Page special feature. And delve into the creation of this unique adaptation of Trumbo's novel with the Johnny Got His Gun Marches On featurette, audio commentary by director Rowan Joseph, and cast and crew bios.
In addition to the countless high school and university English Literature classes with Johnny Got His Gun on their required reading lists, the film is a perfect educational tool for classes/groups studying:
History
Acting
Cinema
Theatre
Nursing
Philosophy
and more...
Don't delay, request a DVD for your school today!
---
How is the film relevant to the study of the book?
While nothing can replace reading the original novel, the film offers students an opportunity to experience the main character's journey in a visual medium. It can also serve as a point of discussion regarding the adaptation of works of literature into other art forms.
How faithful is the film to the book?
Ironically, this cinematic incarnation of the novel is actually closer to the novel than the 1971 film, which Dalton Trumbo wrote and directed. This movie is a filmed version of the stage play, adapted from the novel by playwright Bradley Rand Smith. The (screen)play is written in the same "stream-of-conscious" style as the book. It is constructed from the internal monologue which comprises the book, with 99% of the dialogue taken directly from the novel itself.